Jul 20, 2021 07:10 PM Central
Amber Lawrence
Be still, my Soul…

This bottle in my hands is the original Valor from 2015… Yup, I've held on to it and savor each little life giving drop. I won't even put it on my skin, I only smell from the bottle.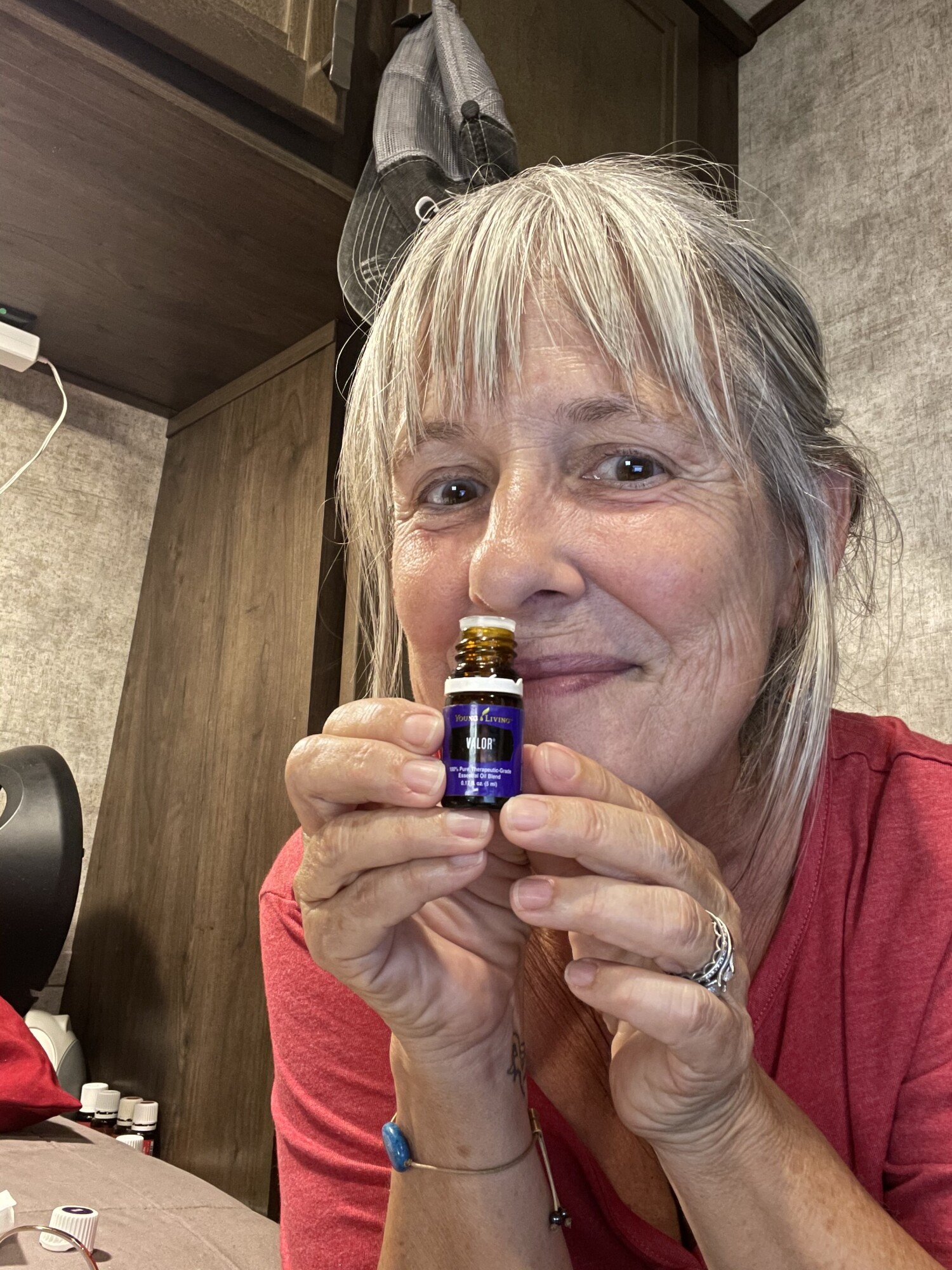 Did you know that the body is extremely intelligent and when you use your oils topically, in your diffuser, or internally that body of yours is so dang smart it knows exactly what to do so you can just sit back and let the life of that oil do its work? Wild right!? Trust me God created these drops of miracles and I'm pretty sure he knew what he was doing…

But why Valor?… this blend of oils was formulated to balance energies and instill courage, confidence, and self-esteem. I would have to say we might just feel challenged in these areas from time to time. And yes we still make this amazing oil...

Also what you don't know, I have been going through some things and still struggling with not being able to feel grounded in this lifestyle, the anniversary of my Mom's passing in seven days, trying to balance my life in 325 square feet with a husband and two dogs.
I've been deep in a Bible study about stopping the spiral of toxic thoughts and if you are a believer then you know we are in a spiritual battle. I have been knocked off course and attacked for over a week now. It's been dark and lonely.

Enough of that… I really want you to understand there are power in the oils, the Almighty and we/I can choose to live in the dark space or get off my ass, pray, and oil up and fight!! Fight for what I know to be true. Why do you think our brand is called Truth in Oils??

When I smell this beautiful blend of Spruce, Rosewood, Blue Tansy, and Frankincense there is a calming effect that I can feel from the moment I open the bottle. Valor is used to help us overcome fear and opposition so we can stand tall during adversity. (think attack of the mind here) Remember, I am in battle. For me when I use Valor, smelling it creates this sense of "I am confident in what I believe" and this brings calmness to my mind and body. Just the way the oils are intended to work… No coincidence. It's just how it works. Your body knows because the oils come from Mother Nature and you really don't know exactly what the benefits might be if you never tried them.

The battle between evil and good will not end until it does and until then I have the resources I can choose to use to help with the dark days… Pray, oil, and Faith.

Amb :)
May 28, 2021 12:54 PM Central
Amber Lawrence
Mom, I am typing this out so you can't look at my handwriting and read between the lines…
insight… My mom was a handwriting expert and studied handwriting for a very long time. If I ever wrote to her she would, immediately after reading it, call me and ask me "all" the questions about what she uncovered in my words through my scribbles of cursive and printing. Drove me crazy!!
I so wish I could call you because well… it is so much easier to just have a conversation with you. But since you are no longer here I thought I would type out a letter to you and let you know what has been going on. Today is May 28, 2021 and it is exactly one year ago we drove into Oklahoma City to be with you Mom. Remember…?? You were quarantined in your room?? Remember Covid 19? You had just had surgery in February??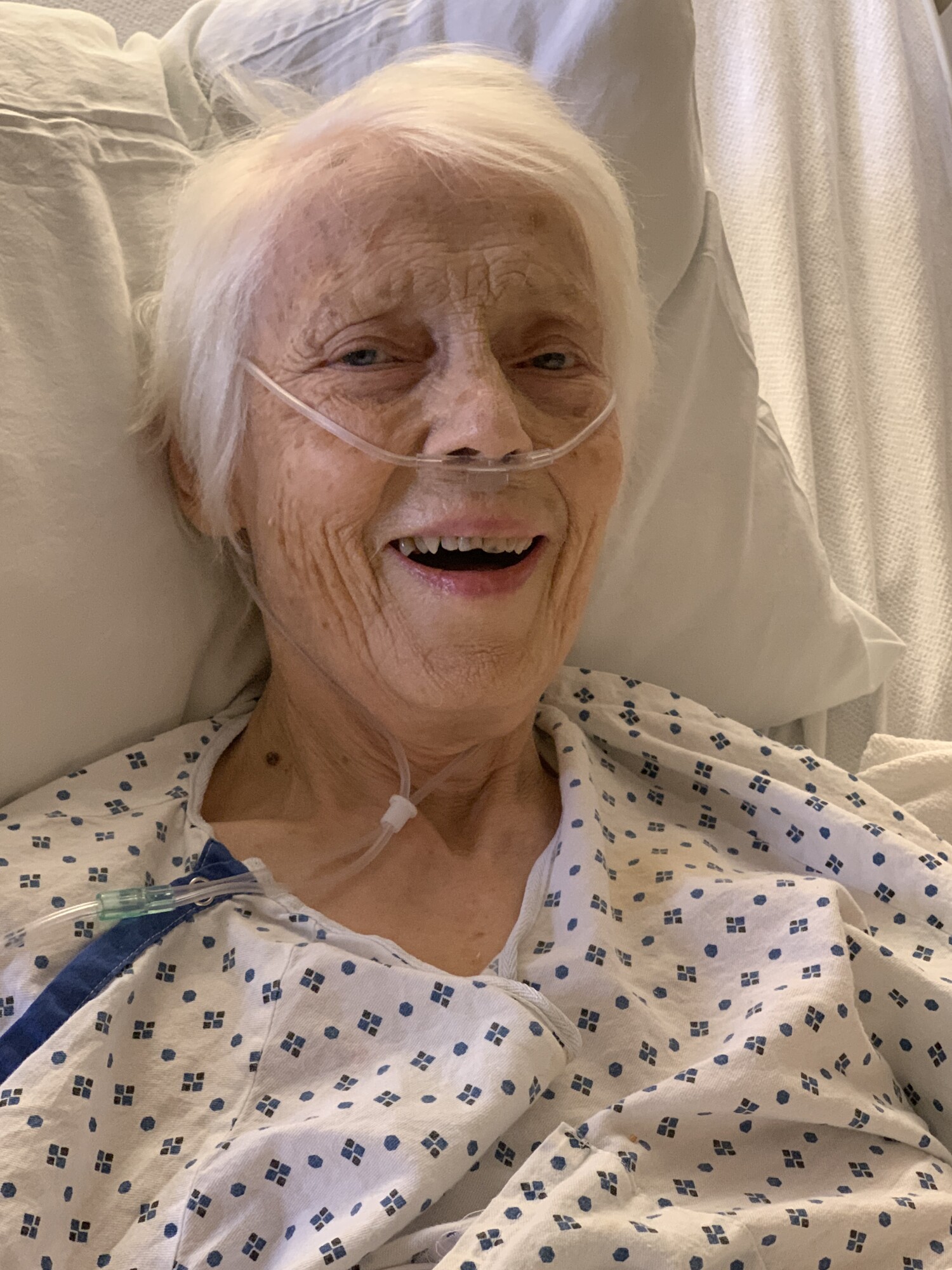 insight…it was so hard for her to answer the phone. She had been in her room all by herself almost immediately after she had just gone through a full hysterectomy in February 2020. March came in, Covid pushed its way into everyone's lives and the elderly were told they had to stay in their rooms until further notice… She went from clarity to not knowing how to answer the phone. I would call and call praying she would somehow figure out how to answer.
I miss you Mom!! I can't believe you are not in that tiny room watching TV and constantly praying for everyone.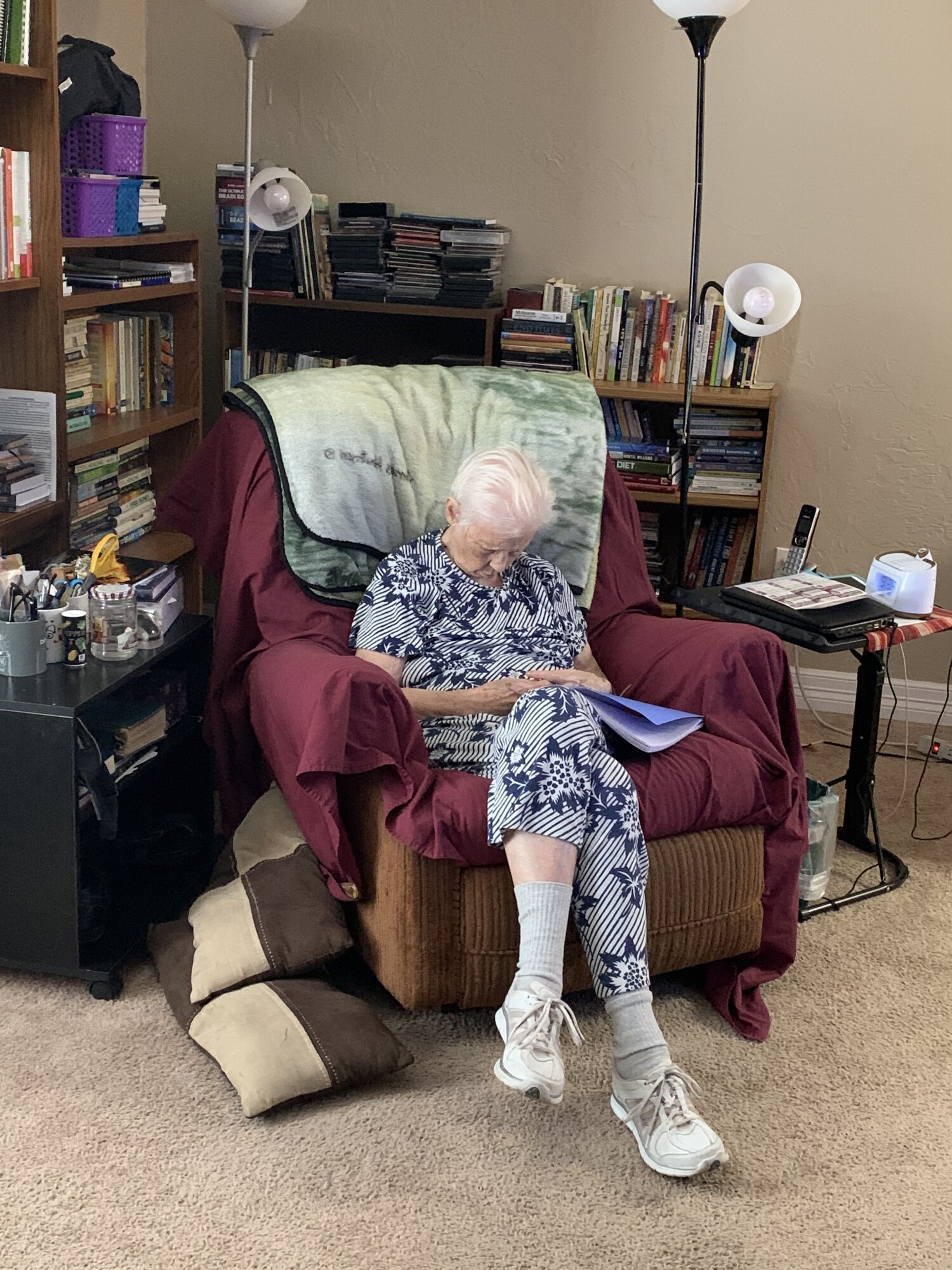 I wish I could still talk to you…Do you remember we used to talk every dang day?? Every day!!?? Do you remember when I started reading you the One Year Bible? You knew so much about the Bible and you loved it when we had this time together. You knew I was getting closer to the Lord. I loved sharing what I was learning and you loved listening to me tell you. I could hear in your voice the excitement about my growth. It was really the one and only thing we had in common.
insight…She was highly intelligent. She adopted me at two weeks and raised me by herself after she got divorced (I was 8). We rarely saw eye to eye about anything. She was way out there in her ways and thinking and at times I couldn't stand her because we NEVER related. She always had an opinion about everything and it was rarely positive. But I still called her every day and I chose to love her. Because she was my Mom….
Mom! I miss you and my life is so different now. Greg and I and the dogs are still in Riley the Roamer. Yeah… still!! Our house is still rented to the same people and we have not gone back to the west coast since we left in May of 2020. Oh and I thought you would want to know...Trump did not get reelected. You would be shocked with everything happening now Mom. It's nuts! We have been hovering on the east coast for a RV repair. Yes Riley is now fixed. We've also been in Florida since the beginning of this year. Five months!! I will share details later, I know you have questions... I just wanted to quickly catch you up to this milestone. One year ago we finally made it to you… I don't know how I am going to walk through all the memories of this time a year ago but I thought if I could write to you that maybe where you are now you could know my thoughts and this could somehow help me figure out how to navigate this time without you….If you were still here I know for a fact you would let me tell you all the details of how I was feeling…and in your own complicated way you would comfort me and I miss that. I can hear your voice tell me "Don't grieve for me sweet heart, this was just my earthly body and now I am home".
insight…she was never attached to her body. She dressed in polyester from the Goodwill and hand me downs. Things to her had no value except her books. She had hundreds and hundreds of books…
I know it is so easy for you or others to say don't grieve for me. I understand that I am sure I will say the same thing but coming up to the one year day of you leaving this planet is hard. I know you grieved the loss of your brother and sister at times and I know you know what I am feeling. I just need to talk this all out with you like you were here with me so I can walk through my own grief and loss. I am certain you would like to know what I am thinking, you always did...



Okay Mom, I gotta go. I love you and I will talk to you soon. I will write again...
May 28, 2021 Florida