May 28, 2021 12:54 PM Central
Amber Lawrence
Mom, I am typing this out so you can't look at my handwriting and read between the lines…
insight… My mom was a handwriting expert and studied handwriting for a very long time. If I ever wrote to her she would, immediately after reading it, call me and ask me "all" the questions about what she uncovered in my words through my scribbles of cursive and printing. Drove me crazy!!
I so wish I could call you because well… it is so much easier to just have a conversation with you. But since you are no longer here I thought I would type out a letter to you and let you know what has been going on. Today is May 28, 2021 and it is exactly one year ago we drove into Oklahoma City to be with you Mom. Remember…?? You were quarantined in your room?? Remember Covid 19? You had just had surgery in February??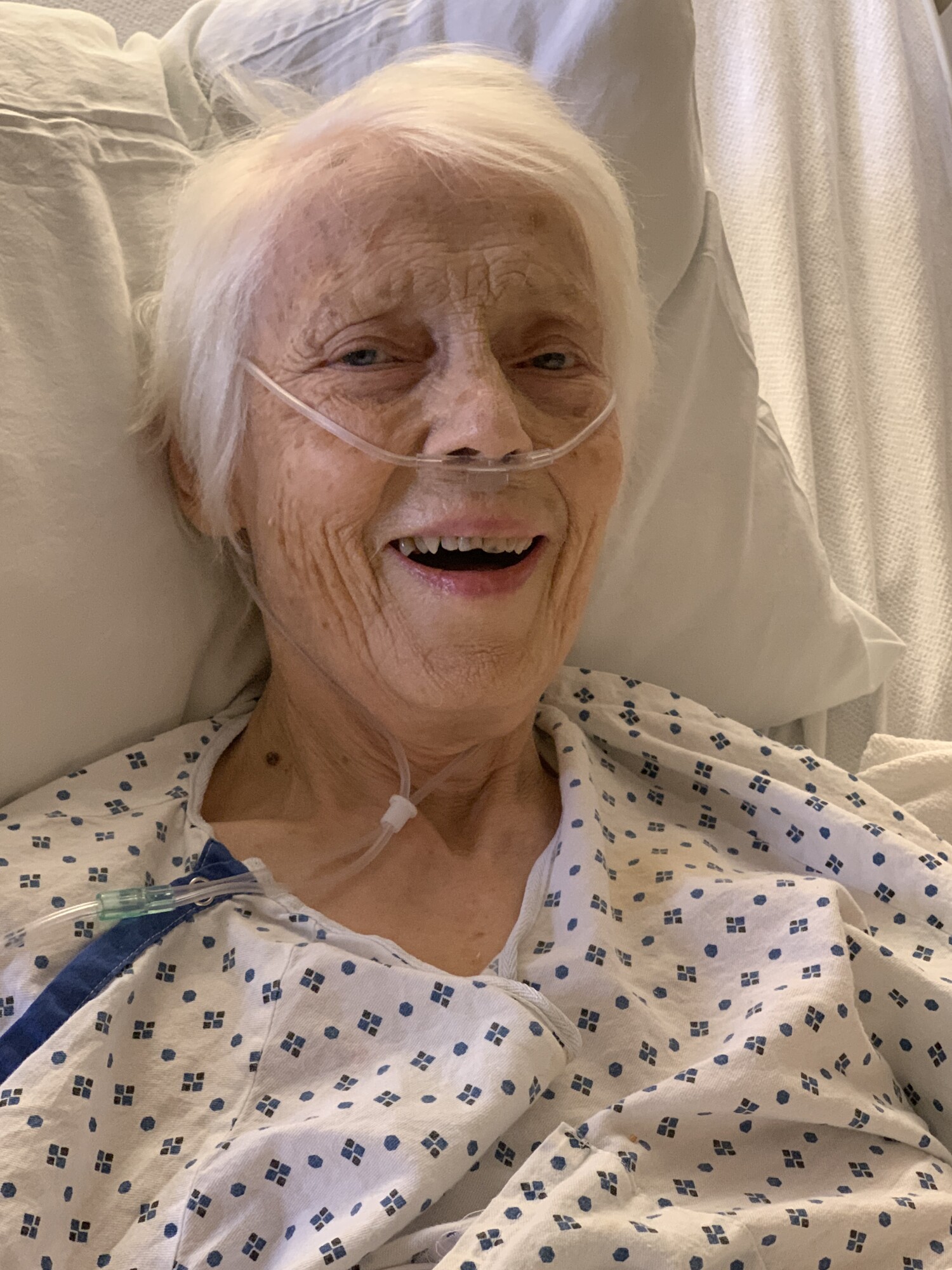 insight…it was so hard for her to answer the phone. She had been in her room all by herself almost immediately after she had just gone through a full hysterectomy in February 2020. March came in, Covid pushed its way into everyone's lives and the elderly were told they had to stay in their rooms until further notice… She went from clarity to not knowing how to answer the phone. I would call and call praying she would somehow figure out how to answer.
I miss you Mom!! I can't believe you are not in that tiny room watching TV and constantly praying for everyone.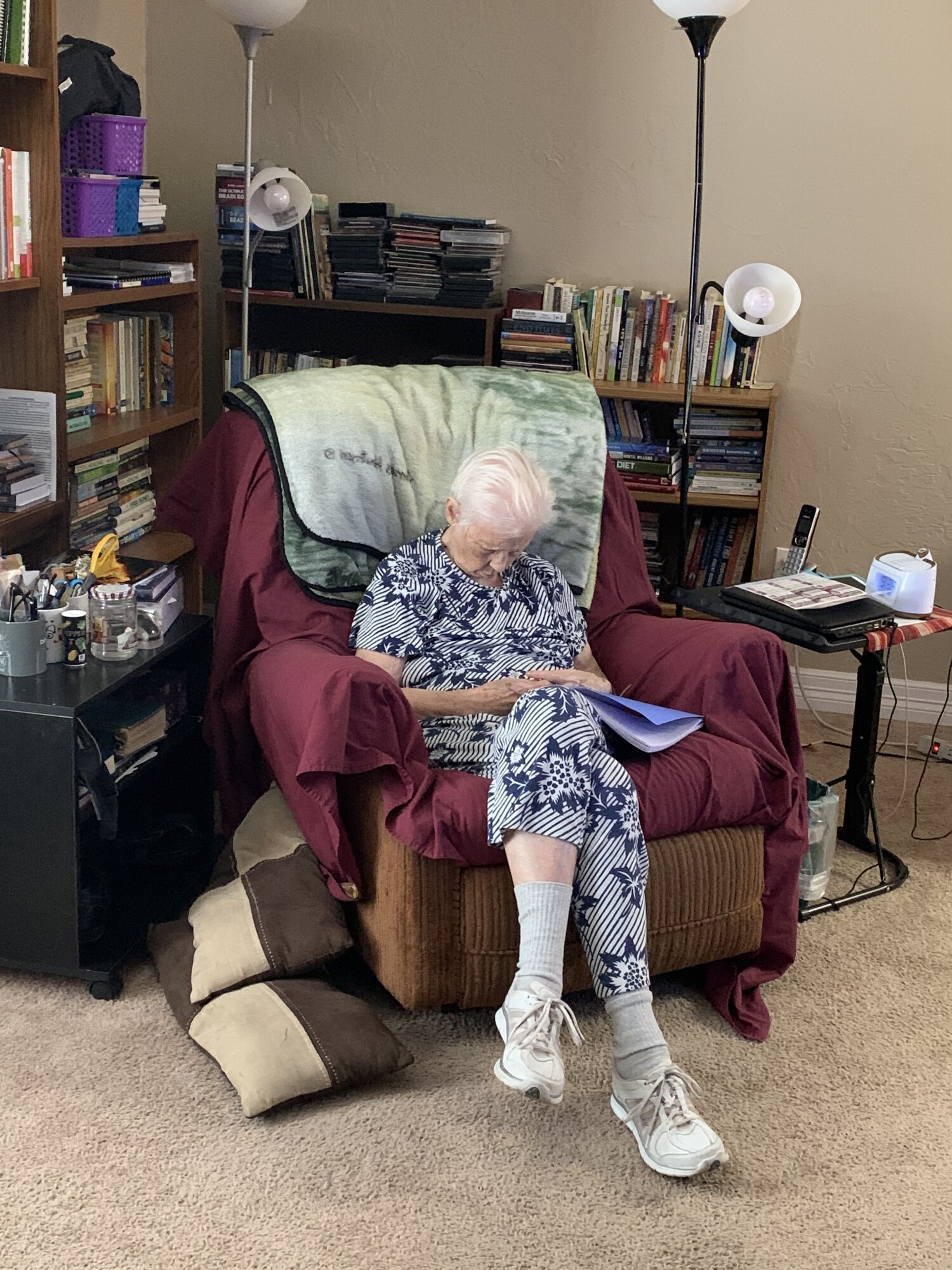 I wish I could still talk to you…Do you remember we used to talk every dang day?? Every day!!?? Do you remember when I started reading you the One Year Bible? You knew so much about the Bible and you loved it when we had this time together. You knew I was getting closer to the Lord. I loved sharing what I was learning and you loved listening to me tell you. I could hear in your voice the excitement about my growth. It was really the one and only thing we had in common.
insight…She was highly intelligent. She adopted me at two weeks and raised me by herself after she got divorced (I was 8). We rarely saw eye to eye about anything. She was way out there in her ways and thinking and at times I couldn't stand her because we NEVER related. She always had an opinion about everything and it was rarely positive. But I still called her every day and I chose to love her. Because she was my Mom….
Mom! I miss you and my life is so different now. Greg and I and the dogs are still in Riley the Roamer. Yeah… still!! Our house is still rented to the same people and we have not gone back to the west coast since we left in May of 2020. Oh and I thought you would want to know...Trump did not get reelected. You would be shocked with everything happening now Mom. It's nuts! We have been hovering on the east coast for a RV repair. Yes Riley is now fixed. We've also been in Florida since the beginning of this year. Five months!! I will share details later, I know you have questions... I just wanted to quickly catch you up to this milestone. One year ago we finally made it to you… I don't know how I am going to walk through all the memories of this time a year ago but I thought if I could write to you that maybe where you are now you could know my thoughts and this could somehow help me figure out how to navigate this time without you….If you were still here I know for a fact you would let me tell you all the details of how I was feeling…and in your own complicated way you would comfort me and I miss that. I can hear your voice tell me "Don't grieve for me sweet heart, this was just my earthly body and now I am home".
insight…she was never attached to her body. She dressed in polyester from the Goodwill and hand me downs. Things to her had no value except her books. She had hundreds and hundreds of books…
I know it is so easy for you or others to say don't grieve for me. I understand that I am sure I will say the same thing but coming up to the one year day of you leaving this planet is hard. I know you grieved the loss of your brother and sister at times and I know you know what I am feeling. I just need to talk this all out with you like you were here with me so I can walk through my own grief and loss. I am certain you would like to know what I am thinking, you always did...



Okay Mom, I gotta go. I love you and I will talk to you soon. I will write again...
May 28, 2021 Florida
May 1, 2021 04:44 PM Central
Amber Lawrence
I am going to try and formulate my feelings into words about how magical this time in Keys has been. Or should I say this IS or WAS our first time here…
I never knew I was so drawn to the water until my Mom passed away and we went to the Outer Banks so I could have some quiet time on her birthday… I have never felt so grounded, calmer, more at peace, comfortable, at ease… this is a picture of the sand in the Outer Banks NC. It is so weird to me to be drawn to the water/beach because I have never thought of myself as a beach girl. I think what I find so freeing is the openness of the water and how I don't feel enclosed. I can see out and I love how that makes me feel. I can breathe....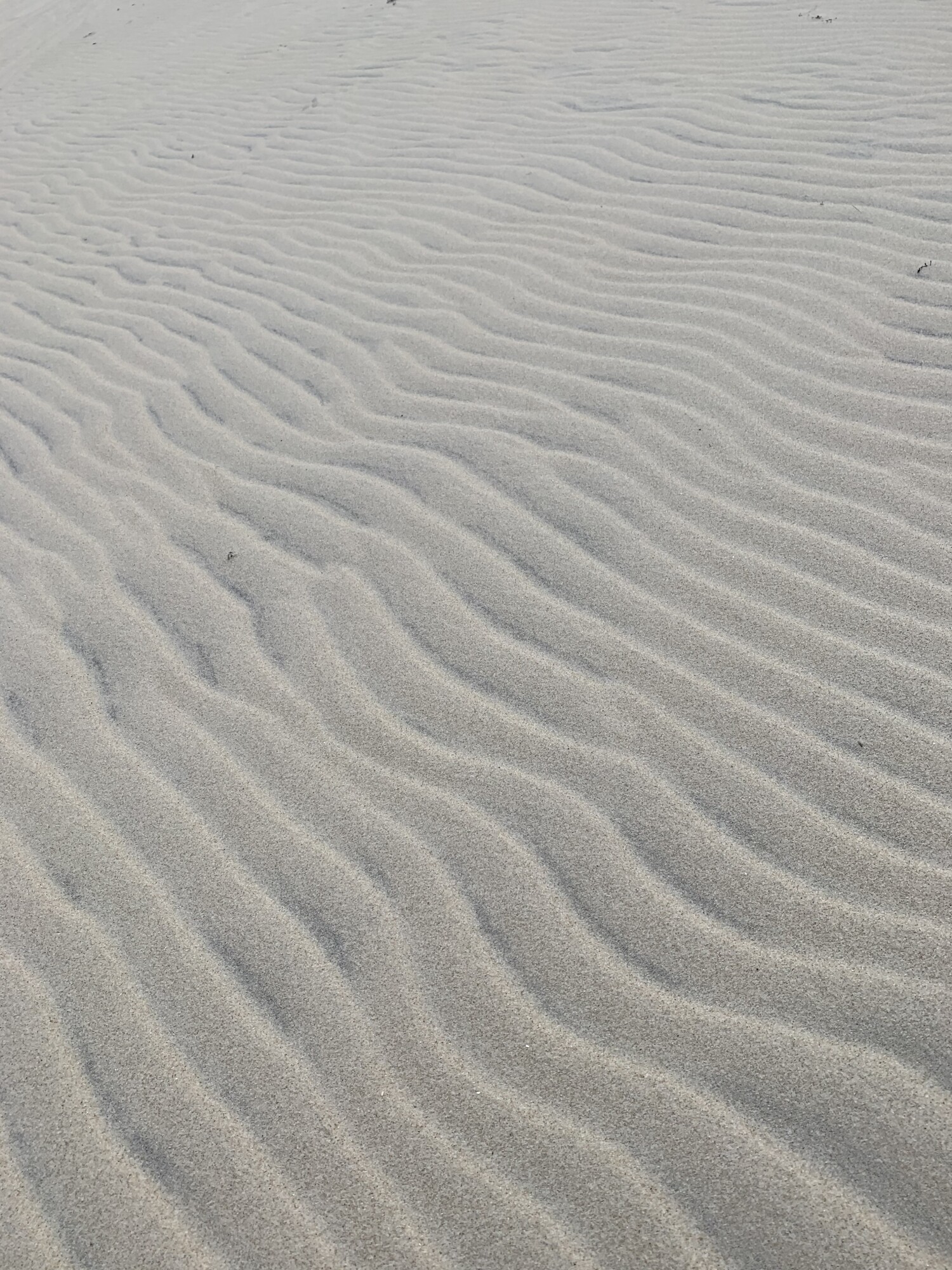 Life has a way of showing you things and really it's up to you to pay attention.
Fast forward several months and hubby Greg and I found ourselves in the Keys for two weeks waiting on a RV repair slot to open up. We had no idea what we were stepping into.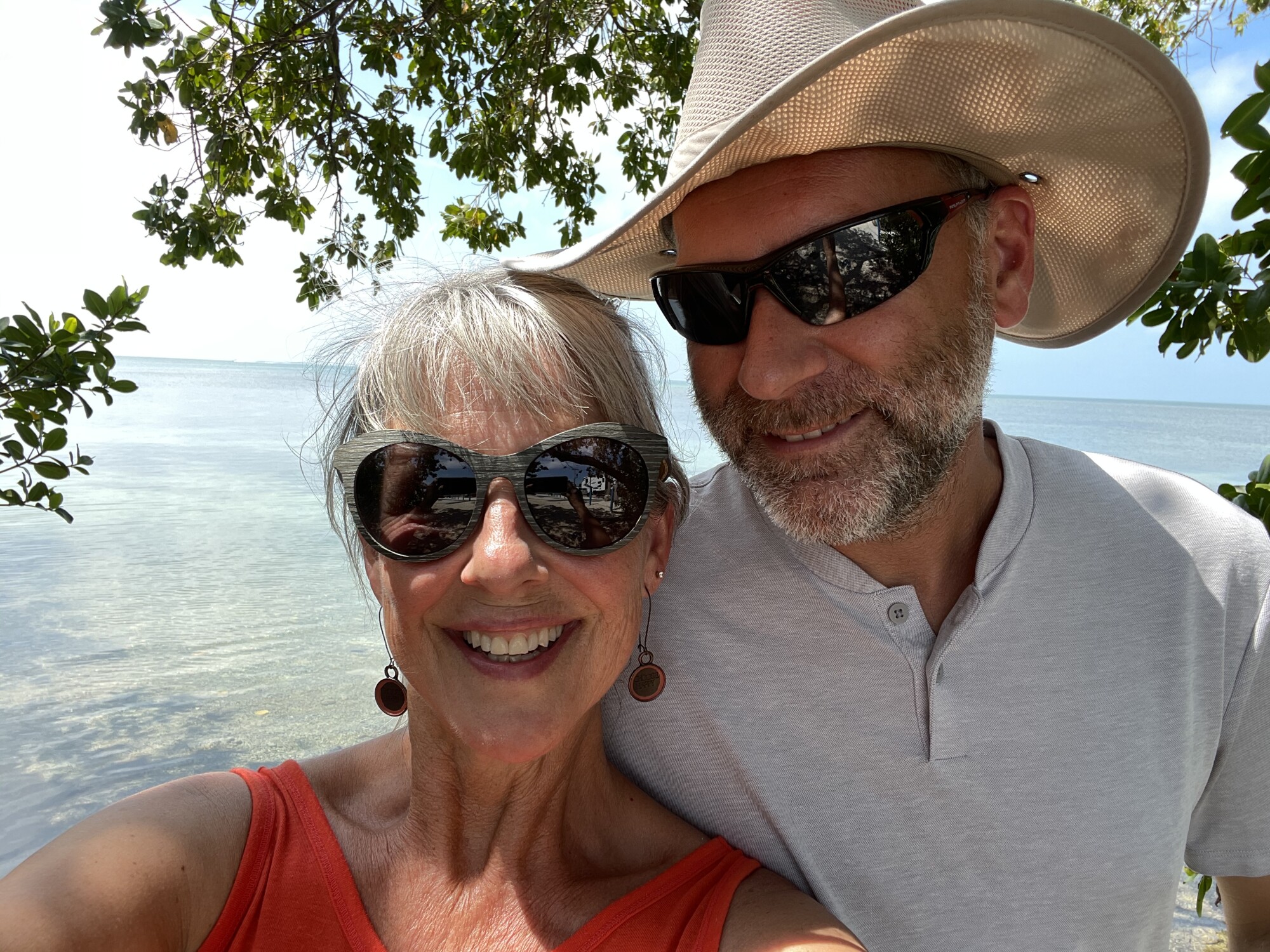 Mesmerized by the water color and temperature of the air. There was that feeling again…feelings of comfort and calmness that I just don't feel anywhere else. Is this a premonition, a whisper from the Almighty as to what is around the corner for us??? Does Greg feel this too?
We are currently bouncing down the road on that seven-mile-long bridge, water on both sides of us, sitting in complete quiet. He looked at me and said we will come back…
I asked several people that we met what brought them to the Keys?? Each one had a different story and each one said the same thing… I never left. Each one with their own set of different reasons for coming here but they all said the exact same thing…I just never left. I am feeling the same pull of the magic of this Caribbean vibe that plays with all your senses and hypnotizes and lures you to never leave. What is this??
We have already talked about how could we spend several months down here and see if this is where we are supposed to be. Is this trickery of the Caribbean magic or are people really happy down here?? I am seriously very happy floating in this crystal clear water...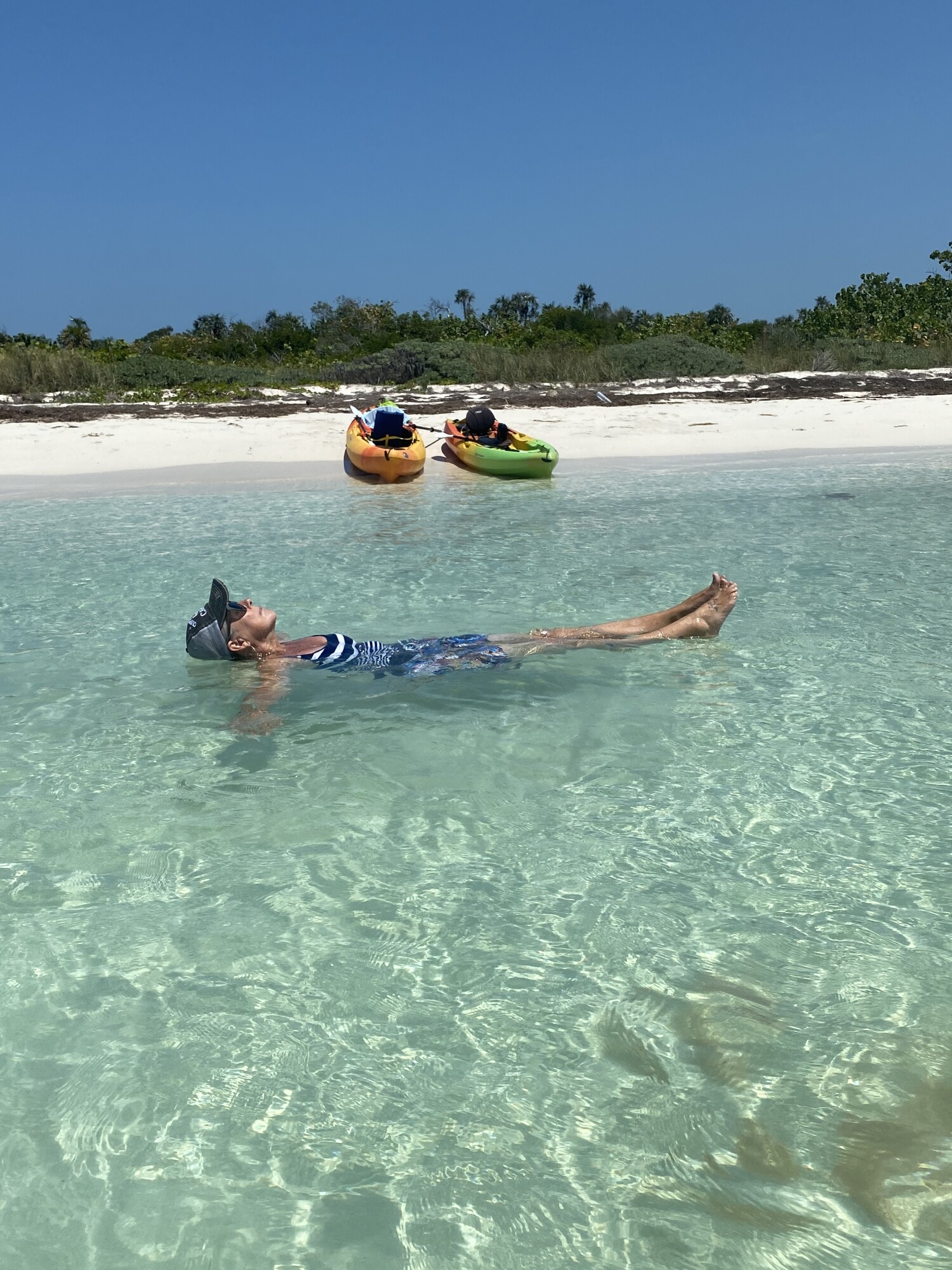 Life in the Keys is so laid back from what we can tell and the people we talked with said they would not live anywhere else and in fact the owner of the Crooked Rooster said she was allergic to the cold and has no intention of ever leaving…
I think about Hemingway and how he did some of his best writing here. The energy is different. The color of the water is all colors of the shade of blue and turquoise. The Conch fritters, grouper, shrimp, and that Cuban toast and those Roosters!! Here is picture of Hemingway taken inside his house.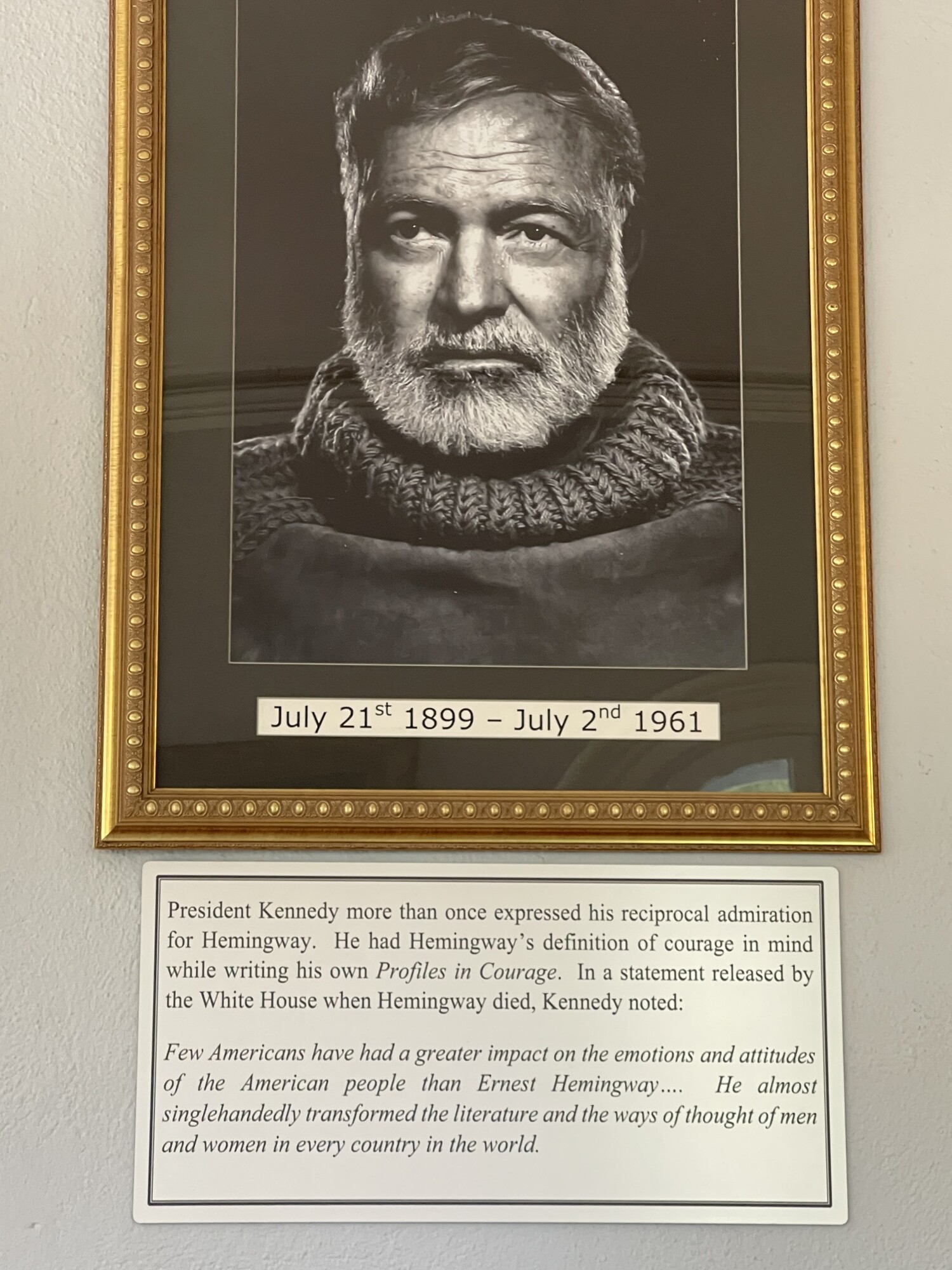 We kayaked with my beautiful daughter who flew in from the Seattle area and she herself was mesmerized. I'm telling you…this place will pull you in and it will be interesting to see if we can stay away….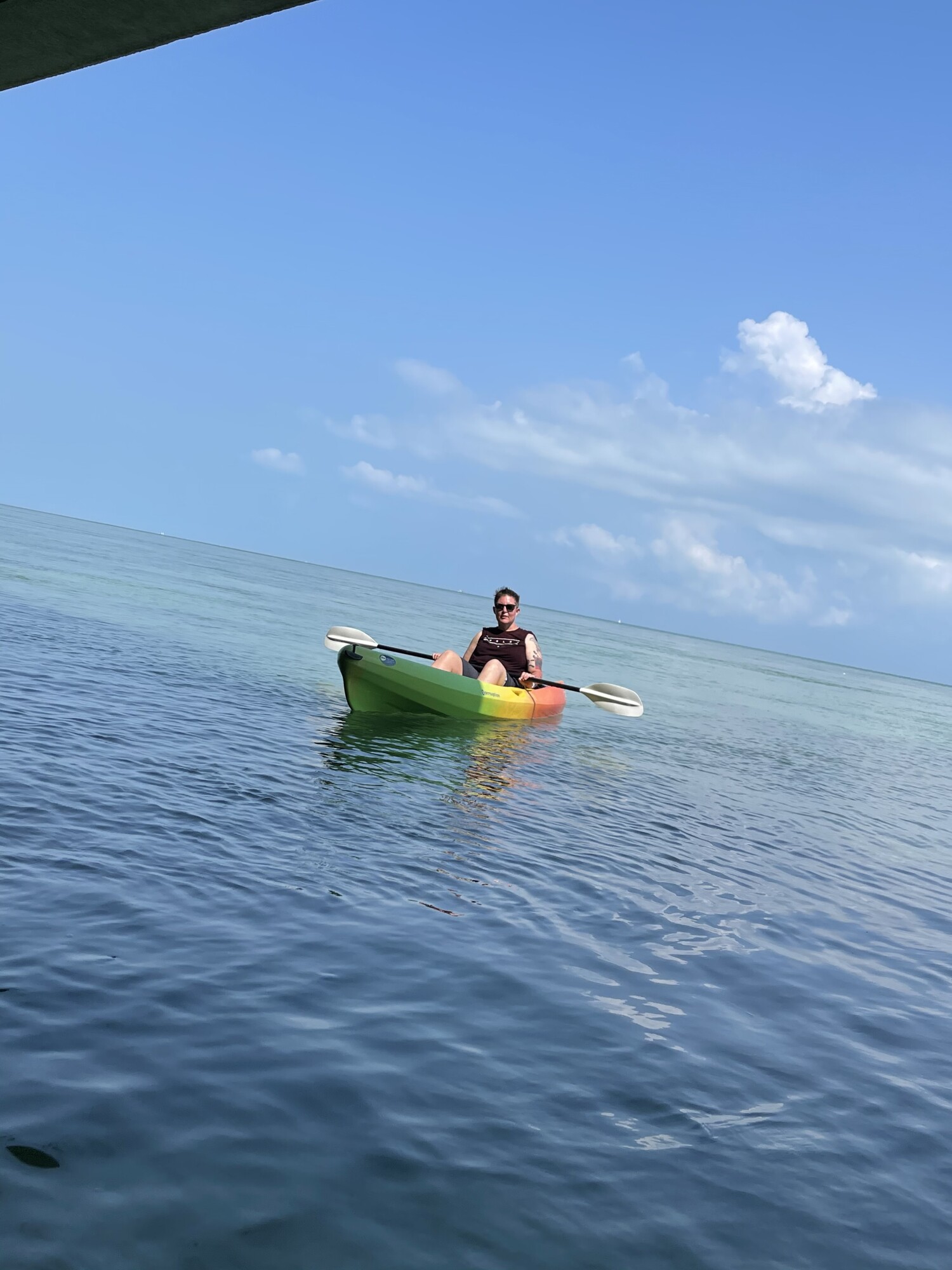 Now I just have to figure out how to bring myself back to chaos that awaits on the other side…the mainland.
Amb :)